In 1996, Extreme Power Plus was formulated to suppress the appetite and increase the energy level, resulting in weight loss. This all natural, dietary product is made up of a special blend of 25 herbs, which all work together to help you achieve maximum results! With Extreme Power Plus there is no diet plan! Consistency is the key with this product. Take 2 capsules a day, every day, 1 capsule in the morning around 10:00 a.m. and 1 capsule in the afternoon around 3:00 p.m. For the first couple of days, you may experience a jittery or nervous energy feeling. This is normal. After a few days, your body will adjust and this will go away leaving you with a natural energy feeling! Anything you do such as drinking plenty of water, cutting back on greasy, fried foods, stop late night eating or exercising is certainly going to speed your weight loss. But if you aren't doing any of these things, don't stop taking Extreme Power Plus. Taking the capsules alone, WILL help you lose weight!
Extreme Power Plus contains the following all natural ingredients: Green Tea, Koala Nut, 72 Trace Mineral Complex, White Willow Bark, Ginger, Fo-Ti, Hawthorn Berries, Saw Palmetto, Beet Root Powder, Chromium Picolinate, Guarana, Ma Huang Zi Chi, Kelp, Citrimax, Calcium Carbonate, Magnesium Carbonate, Korean Ginseng, American Ginseng, Yerba Matte, B-12, Bee Pollen.
To see the job of each one of these ingredients and their individual use
---
TESTIMONIALS
Lost 210 Pounds
Thank you, Dutch International for making Extreme Power Plus. These pills gave me a new look on life. I have lost 210 pounds in less than 8 months!!! I decided to start taking Extreme Power Plus when I saw a video of myself at 374 pounds, which embarrassed me a lot. A friend told me about these pills and he said it would cut my appetite and give me energy. well, it worked!!! I was at the point that I didn't want to do anything. All I wanted to do was go to work and back. I didn't care to do anything more than I had to. Now I look for things to do. I am enjoying life again. Now I can get on the floor and play games with my granddaughter. So, thank you very much again because I could not have done it on my own.
Dale Bouzigard
---
Lost over 200 Pounds
Like the Energizer Bunny, my weight loss keeps on going and going thanks to Extreme Power Plus. I've lost over 200 pounds since the third week of June, 1998 and January 1999 has just begun. Thanks to Extreme Power Plus I have the energy and stamina to not only hold down two jobs, but to also father my two sons that are 3 1/2 and 7 years of age. To top it off my wife Donna has been taking the Extreme Power Plus and it seems like every
week she is in need of a new down-sized wardrobe as the weight rapidly falls off. If she stands up too fast her pants literally fall down so I've decided to get her a variety of suspenders for Christmas. Thank you Extreme Power Plus!
Donna & Jeff York
---
From Size 18 to Size 8
I started taking Extreme Power Plus in June of 1998. When I started, I was wearing a size 18 dress, I wear a size 8 now! I am also a registered nurse and I take care of patients with cardiac problems.
I recently experienced episodes of chest pains. My cardiologist immediately wanted to test me. He assumed that the Ma Huang in Extreme Power Plus was the cause of the pains.
After extensive testing, my doctor not only determined that Extreme Power Plus had nothing to do with my chest pains, but that I had a heart of a 16 year old! (My pains were caused from an ulcer.) Neither of us are concerned anymore about the health risks of Extreme Power Plus. I will take them for the rest of my life!
Sheryl Edwards, RN
---
Lost Over 100 Pounds
When I started taking Extreme Power Plus I weighed 290 pounds and was wearing a size 48 pants and a size 3X shirt. I knew that I had to do something. My dad, Dale Bouzigard, told me that he was taking Extreme Power Plus and it cut his appetite, so I began taking the product. It works!
After one year, I am proud to report that I've lost over 100 pounds! My waist is down to a 38 and I am wearing a mens large shirt. I feel great! Thank you for making Extreme Power Plus. It has changed my life!
Brian Bouzigard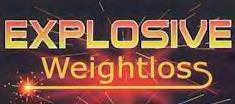 CLICK HERE TO ORDER EXTREME POWER PLUS ONLINE TODAY
Always consult a physician before starting any weight loss program.
Warning: Consult a physician before using if you are pregnant, lactating, having high blood pressure or being treated for a medical condition.
KEEP OUT OF REACH OF CHILDREN.